HOUSE & HOME
FEBRUARY 13, 2016 2:00 AM
House Call: Leawood home's gourmet update mixes Baja chill with cozy ski lodge look
Mike and Julie Wood's Leawood home is 24 years old
Couple wanted to update first floor, kitchen
They worked with local designer, contractor on year-long project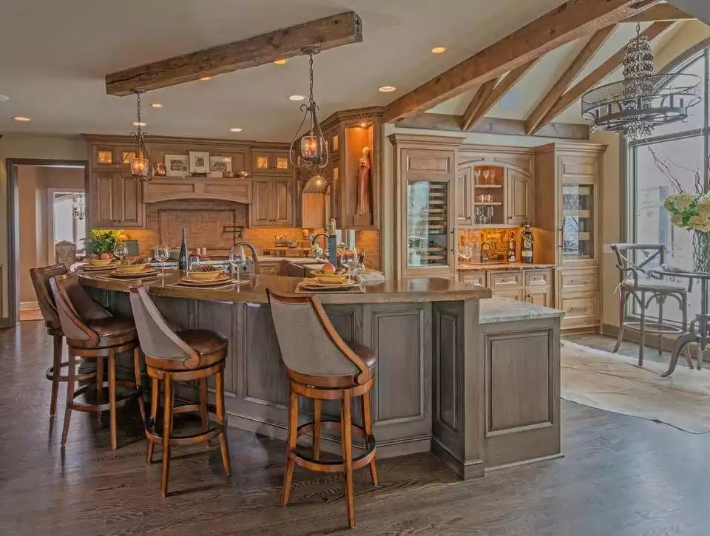 Mike and Julie Wood wanted to refresh their 7,500-square-foot Leawood home, which hadn't changed much since it was built in 1992.
The home has a grand entry, den, master suite, formal living and dining rooms, eat-in kitchen and hearth room on the first floor.
A spiraling staircase leads to the second floor, which features three bedrooms and a playroom. The basement has a bar, pool table, playroom, office, guest room and a new, large temperature-controlled wine cellar.
The Woods called on Julie Ransopher Baker of Shaping Your Space to redesign the kitchen, family room and back deck on the first floor.
Baker says her goals are to "give 'em what they never knew they wanted," while avoiding a signature look.
Julie Wood requested a space that felt like Cabo San Lucas, where the family vacations each year. And while that mission was accomplished, it also felt like a boutique ski lodge on the cold wintry day we visited. A lot of the furniture and accessories are from Pottery Barn, where Julie Wood works as a design specialist, and Arhaus.
"Julie knows what she likes and had a hand in every decision made," Baker says. "We had special nooks made for artwork, custom-blended tile, created custom lighting and used special fabrics for pillows. Mike is the cook in the family and he had some special requests for appliances and the way we designed the kitchen."
Baker calls the style of the home updated traditional.
The Woods have three children, four grandchildren and elderly parents for whom they host family dinners every Sunday. They also requested a small pool with an endless current be installed on the wrap-around deck for Mike Wood and one of their grandchildren, who has special needs.
Construction was led by contractor Craig Eymann of Ambassador Construction Co. With all the custom touches, renovations took a year to complete, nearly as long as it took for the entire house to be built 24 years ago.
BY CYNTHIA BILLHARTZ GREGORIAN :: cgregorian@kcstar.com